Pork, apple & onion sausage rolls & plait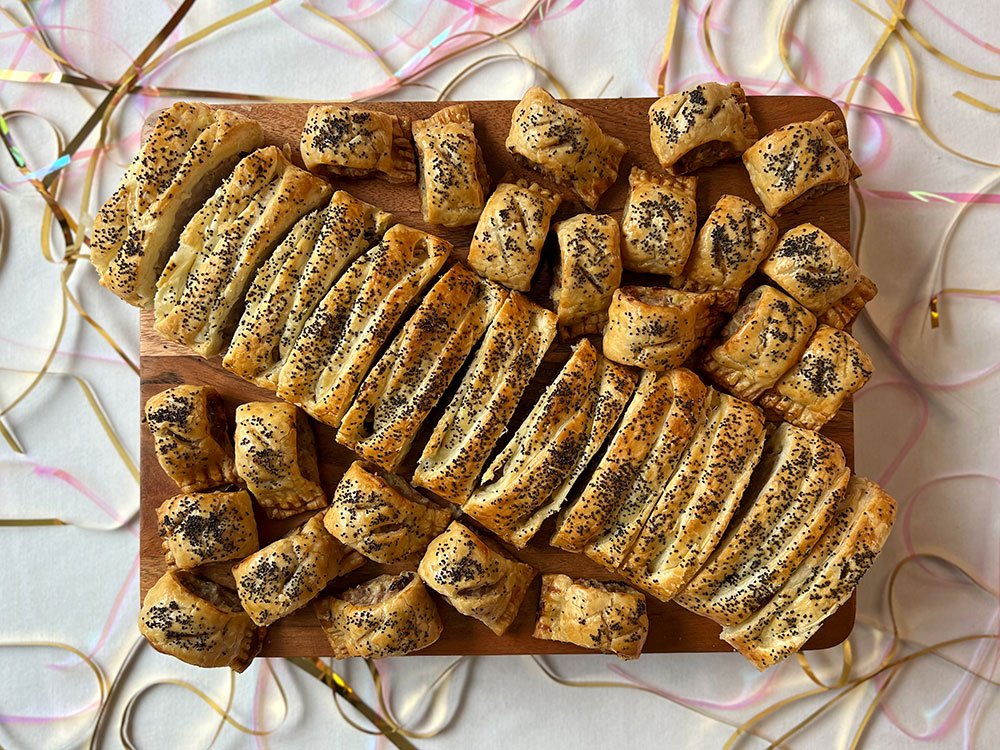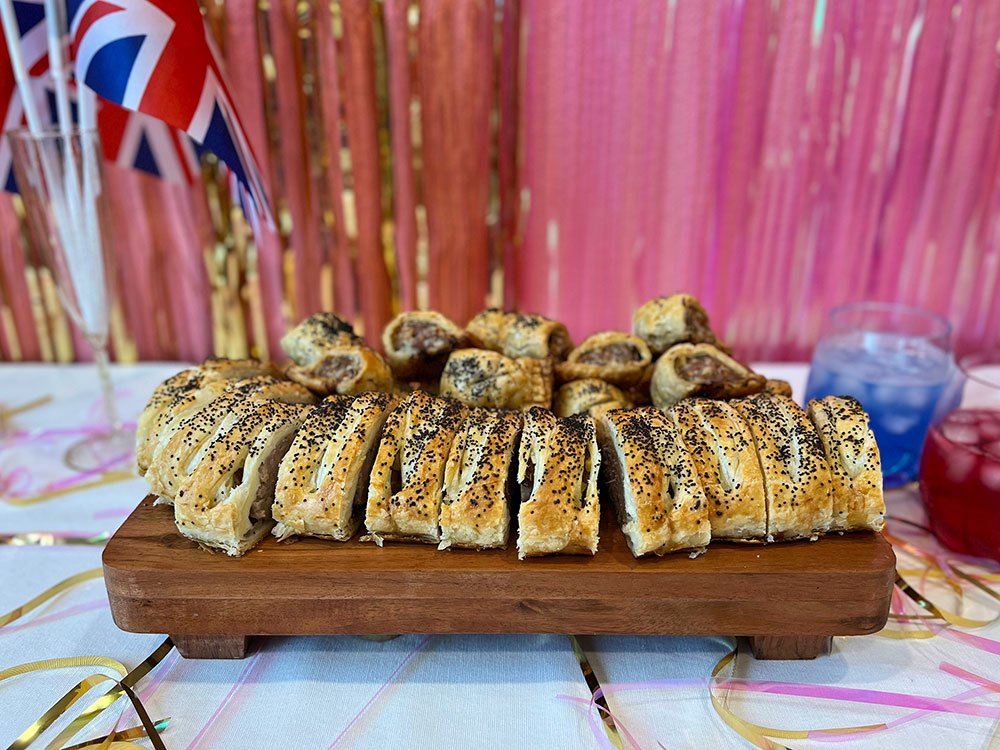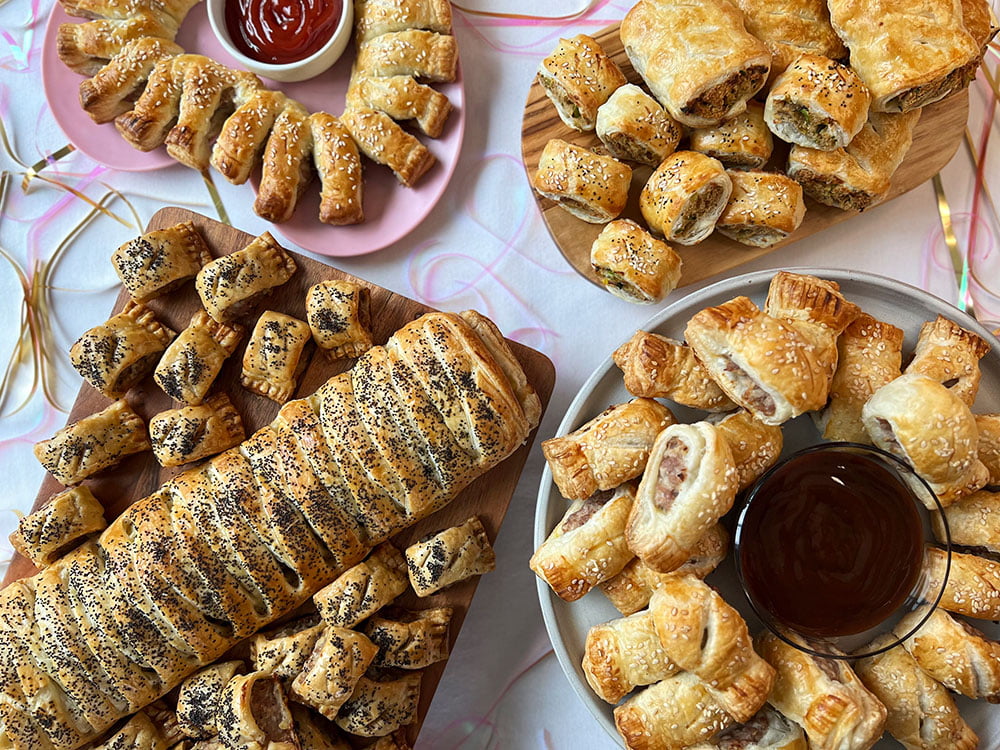 Sweet red onion, sweet softened apple and sweet… er… pork, come together in perfect harmony in this sausage plait. Yes, it's another sausage roll recipe! There are many things we do well in the UK – producing chart-topping superstars, queuing, stealing artifacts – but top of our list is the epic sausage roll. And this one is especially yummy.
You can picture our Mission Eurovision planning sessions by now. Bedecked in glittery Union Jacks with Scooch blasting on repeat, we huddle around our screens and contemplate how to make our parties better. Frantically typing, we punch in words and collate ideas until, finally, we hit the jackpot. "More sausage rolls". We cheer, we holler, we high five the sky! We've got this. You're in good hands with us.
So here is another sausage roll recipe.
We made a shortcrust pastry for our mini sausage rolls and used a shop-bought puff pastry for the plait. You can do either/or, it's all good.
TIME: 1hr – 1hr 15mins / CAN MAKE IN ADVANCE
1. Pastry
Sift the flour into a large bowl and add the cold cubed butter. Rub with your fingertips until like breadcrumbs.  (Alternatively, you can blitz in a food processor.) Add the salt and then add the water in small amounts, working with your hands until you have a good dough. Ball it up, wrap in cling film and place in the fridge for 20 minutes.
2. The filling
Heat 1 tbsp butter in a pan and add the red onions. Cook on high heat for 2-3 minutes, then lower heat and cover for 15 minutes (stirring occasionally). Add the sugar and some dried thyme, stir, and cook for another 5 minutes.
3.
Meanwhile, in another pan, heat the remaining 1/2 tbsp butter and add the small apple cubes. Cook until softened – about 10 minutes.
4.
Pre-heat your oven to 200°C. Roll out your pastry on a lightly floured surface then transfer onto a baking tray lined with greaseproof paper.
Spoon the red onions down the middle of the pastry and gently spread until they cover half the width.
5.
Mix the apple and some chilli flakes into the sausage meat, form into one large sausage, then place on top of the onion.
6.
Beat the egg and brush onto the pastry on either side of the sausage.
7.
Plait: use a small sharp knife to make diagonal cuts down and outwards from the sausage, on both sides. You can discard the top corners. Then, alternate from side to side, pulling the strip of pastry over the sausage and tucking it slightly under.
Mini sausage rolls: fold the pastry over the sausage and use a fork to crimp together. Cut into small sausage rolls.
8.
Brush the top with the remaining egg & sprinkle with poppy seeds.
Bake! Mini sausage rolls will need 15-18 minutes, a large sausage plait will be closer to 25-30 minutes.