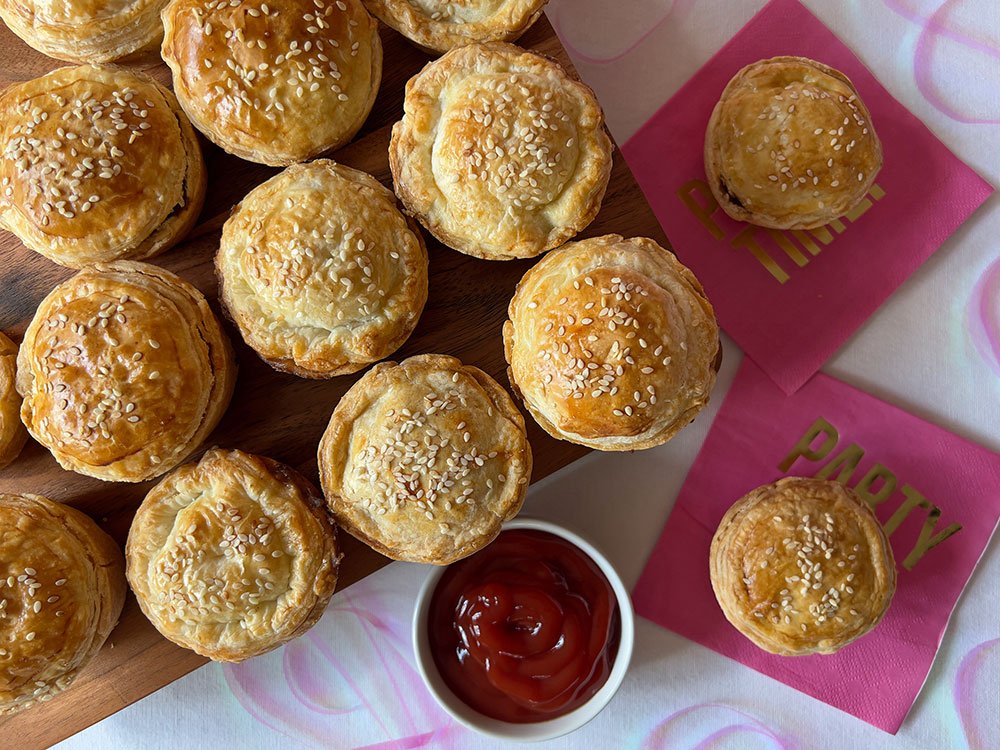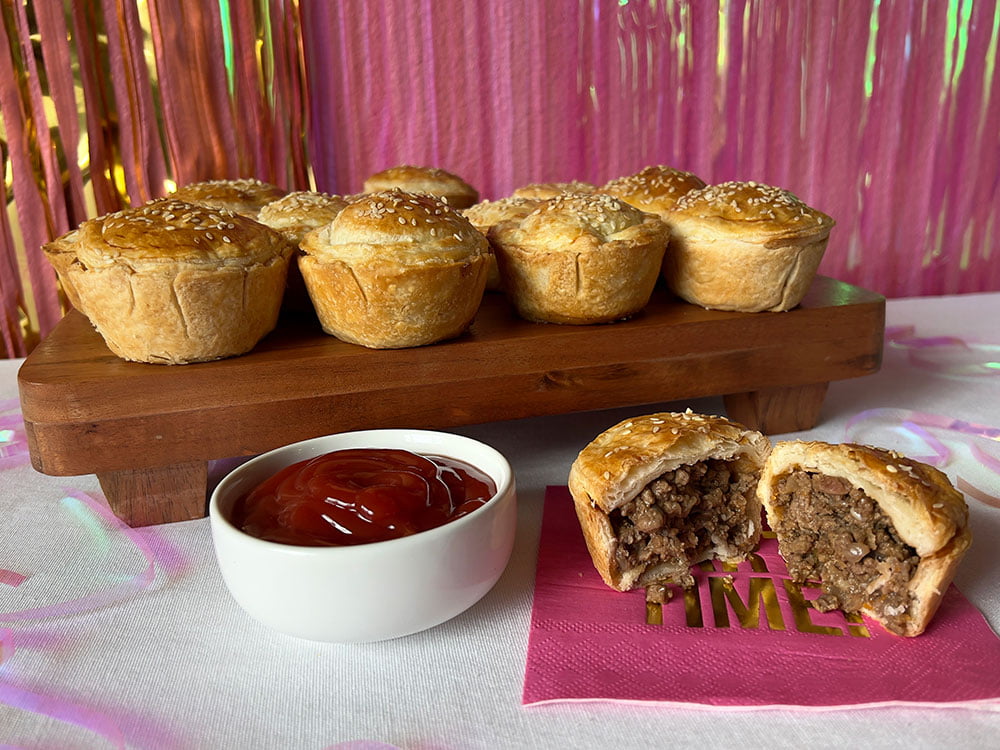 These individual meat pies are super popular in Australia, and for good reason! Commonly found at children's birthday parties over the last five plus decades, they're now an important part of Aussie cuisine and served at all types of gatherings.
We're so happy Australia is in Eurovision. Thank you. We love you. 
*It's a lot cheaper to use the blocks and roll out, but you will need to guess how much you'll need. Alternatively, make your own! We previously used shop bought puff pastry and made our own shortcrust.
1.
Heat oil in a large pan on high heat, then sauté the bacon and onion for 3-4 minutes. Add the beef mince and break up, followed by the garlic, and cook for another 3-4 minutes.
2.
Sprinkle in the flour and stir for 1 minute. Add the tomato paste, rosemary and beef stock. Bring to the boil, then reduce the heat and simmer uncovered for 10-15 minutes. Transfer to a bowl and let cool for 10 minutes, then place into the fridge.
3.
Heat the oven to 200°C. Melt the butter (microwave or pan) and use a pastry brush to grease 2 x 12 hole muffin tins. (If you only have one, no problem! Just make these in two batches.)
4.
Use a 10cm cutter to cut 24 rounds from the shortcrust pastry. If you don't have any cutters, you might have a jar lid the right size in your kitchen that you can cut around (like we did), or make a ring from tin foil to use as a guide.
Place the rounds into the muffin holes.
You can ball up the shortcrust pastry offcuts and roll out again to make any additional rounds if needed.
5.
Put 3 tbsp of the meat filling into each pastry shell. Beat the egg, then brush the edges of the pastry.
6.
Use an 8cm cutter (or alternative) to cut 24 rounds from the puff pastry. Use to top each pie, pressing the pastry edges together to seal. Brush the top with egg and sprinkle with sesame seeds.
7.
Bake in the oven for 20-25 minutes. Remove and allow to cool in the tin for 5 minutes. Serve with lots of ketchup!