Schwarzwälder Kirschtorte (Black Forest) cupcakes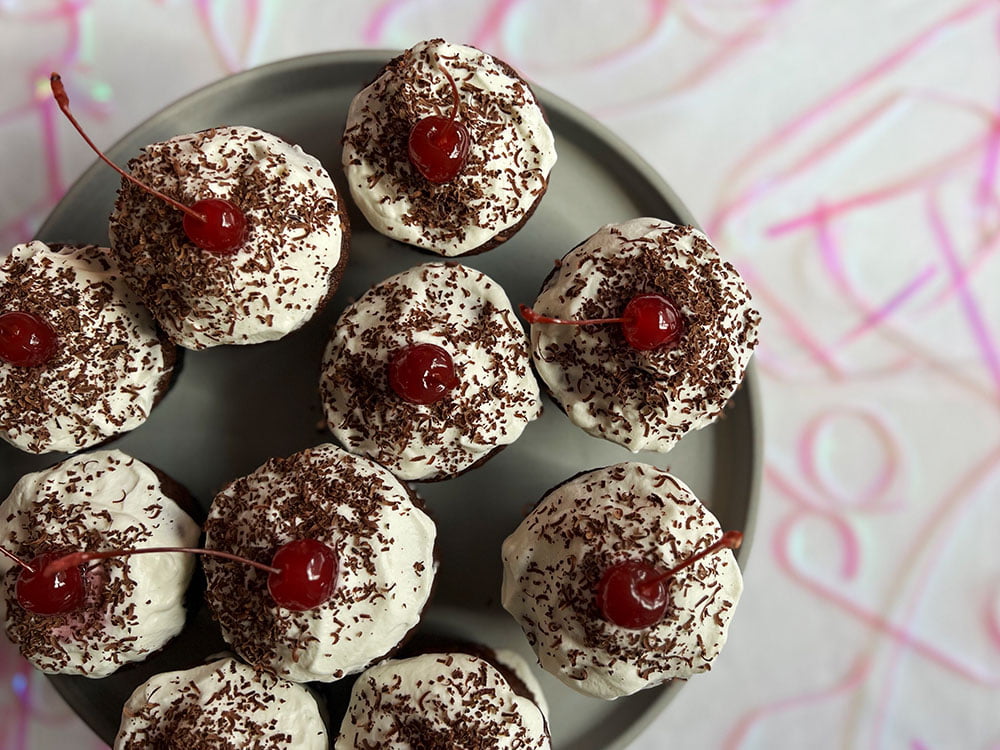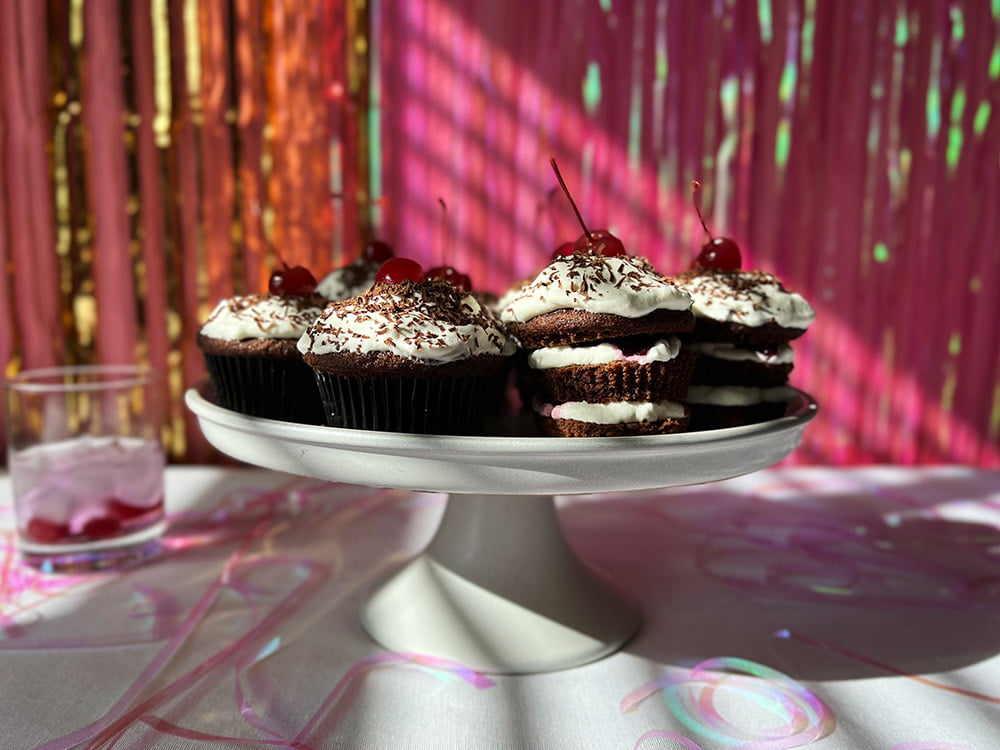 The rich and decadent Schwarzwälder Kirschtorte (Black Forest Cake), with its layers of chocolate cake, cream and cherries with cherry liqueur, is always a crowd pleaser. We love the cupcake form for parties – they're still messy, still delicious, and still a great way to represent Germany! 
1. Bake the cupcakes
Heat your oven to 180°C and line a 12-hole muffin tin with paper cases.
2.
Mix the cocoa with boiling water and whisk until smooth. Set aside.
3.
Use an electric whisk to cream the butter and sugar until pale and fluffy. Gradually add the beaten eggs, followed by the vanilla extract and cocoa mixture.
4.
Stir the baking powder, bicarb of soda and salt into the flour. Sift into the cake mixture. Add the sour cream, then use a rubber spatula to fold until smooth. Divide evenly into the paper cases.
5.
Bake in the oven for 20 minutes, or until a wooden skewer inserted in the middle comes out clean. Let rest in the tin for 4 minutes, then cool on wire rack. Ideally leave to cool overnight.
6. Cherry filling
Leave the frozen cherries out for 30 minutes – 1 hour. Roughly chop, then place into a pan with the sugar over a medium heat. Mash a little with a wooden spoon and heat until you have a nice syrupy mixture.
7. Cream
Beat the cream on high speed for 3 minutes/until soft peaks form. Add the icing sugar, vanilla extract and kirsch (optional), then beat for another 2-3 minutes. Store in fridge until ready to use.
8. Assemble!
Filled cupcakes: scoop out a 1 1/2 inch ball from the top of the cupcake (you can eat this now). Fill with the cherry mixture.
Layered cupcakes: slice each cupcake into three layers. Spread cream onto the bottom layer and spoon some cherry mixture on top. Repeat with the next layer.
Cover with the whipped cream, sprinkle with shaved chocolate, and top with a cocktail cherry!