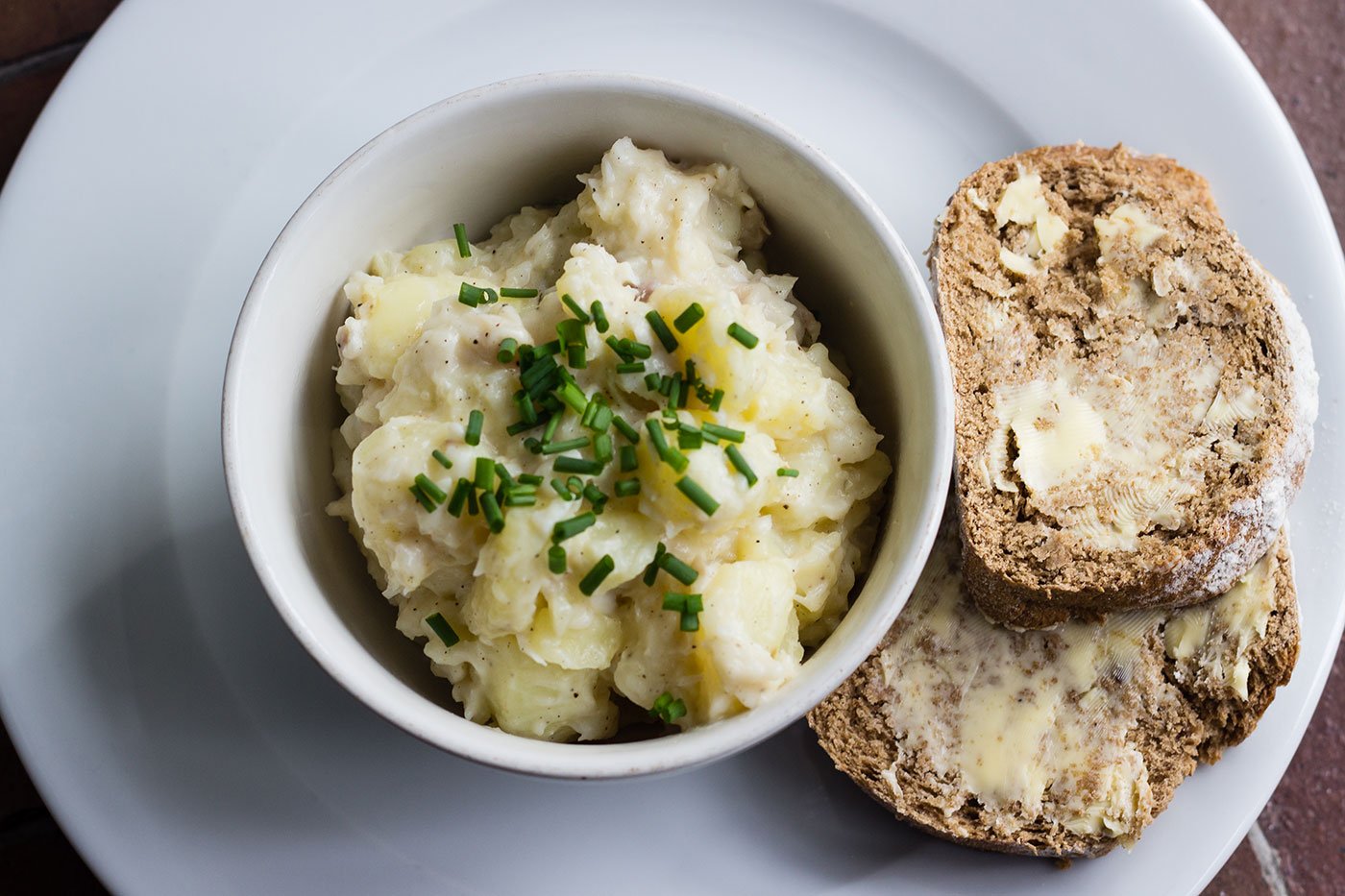 This is essentially fish & potato mash, brought to life with a sprinkling of chopped chives and a name that's fun to say. Plokkfiskur is comfort food at its best.
Repping Norway at your Eurovision party? Add some finely cut leeks and you'll have a hearty serving of the Norwegian version, Plukkfisk.
Time: 40 mins   /   Serves: 4   /   DIFFICULTY: Medium
Ingredients

400g floury white potatoes
600g cod or haddock
50g butter
1 onion, chopped
3 tablespoons plain flour
500ml milk
Salt & pepper
To serve

Chopped chives
Rye bread
Steps
1. PREP

Peel then boil the potatoes in water with a pinch of salt.

2.

Cook the fish in a frying pan over a medium heat, breaking it into flakes.

3.

Drain the potatoes after 15 minutes and roughly chop up into 2cm cubes. Put to one side with the flaked fish.

4. MAKE SAUCE & MIX IN

Start warming the milk in a saucepan - make sure not to burn!

While the milk is heating up, melt the butter in a non-stick saucepan and fry the chopped onions until soft.

5.

Sprinkle the flour over the onions, then gradually add the warm milk to create your white sauce. Stir continuously to avoid any nasty little lumps! Simmer for 4-5 minutes and stir often.

6.

Add the flaked fish to the sauce and stir again. You'll want the fish to break up as much as possible.

7.

Add the potatoes to the mix and then season liberally. You'll want this to taste quite salty. Cook over a low-heat until all the potatoes are hot through and the sauce has thickened.

8. SERVE

Serve in a bowl with chopped chives and rye bread with butter!