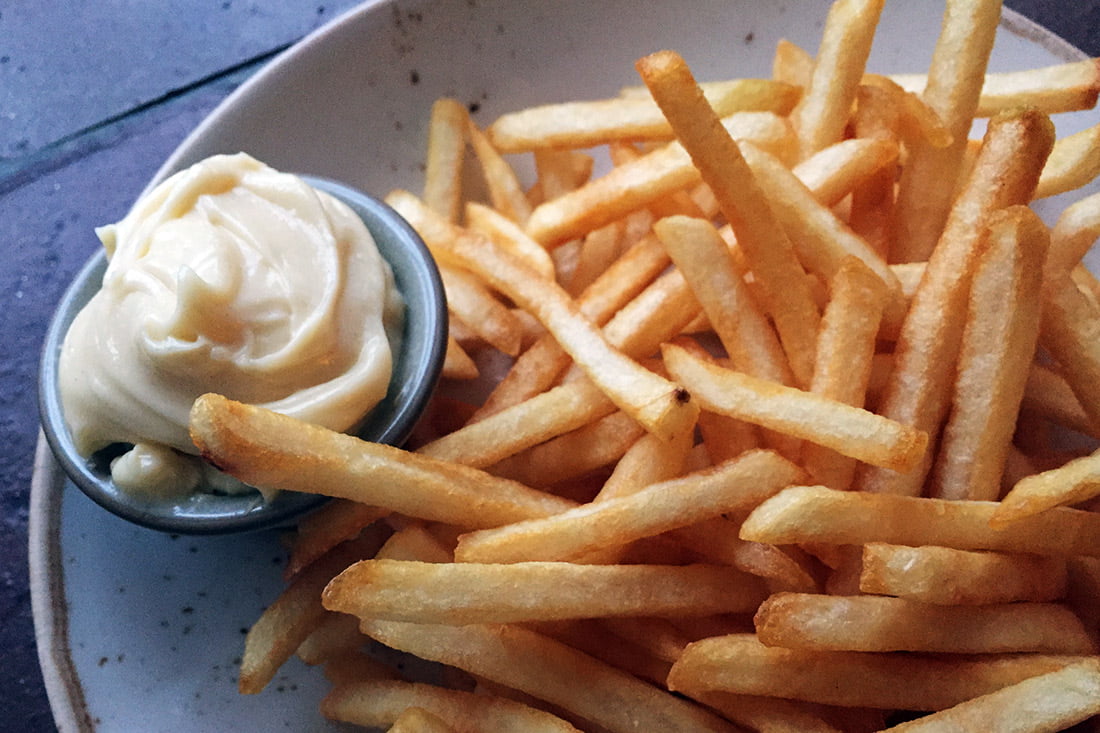 Ah the ol' classic frites with Belgian mayonnaise. No other condiment comes close to being the perfect partner to a bowl of hot chips, and the satisfaction of making your own mayonnaise is second to none. The dijon mustard and fresh lemon juice combine to create a pop of flavour.
At Mission Eurovision, we're a little scared of frying in lots of oil so opted for oven baked "fries" instead. If you have a deep fat fryer, then ignore our instructions and cook them as you normally would. Alternatively, rustle up some of your finest frozen oven chips to go with your homemade mayonnaise. No one will know.
Time: 45 mins   /   Serves: 4   /   DIFFICULTY: Medium
Ingredients
For the fries

800g yukon gold potatoes
3 tablespoons olive oil
For the mayonnaise

2 egg yolks
400ml sunflower oil
1 tablespoon dijon mustard
A squeeze of fresh lemon juice
Steps
1. MAYO!

Beat the egg yolks and mustard together in a bowl.

2.

Slowly add in the sunflower oil - start with a small amount! Mix well with the egg yolks, ensuring you maintain a thick consistency.

If it starts to thin out then STOP ADDING OIL IMMEDIATELY and mix in a tiny amount of cold water instead to thicken it back up. This is v important!

Repeat this process until you have a nice sturdy mayonnaise. Squeeze in some fresh lemon juice and season to taste.

3. "FRIES" / BAKED CHIPS

Thinly slice the potatoes and spread out on a pre-heated baking dray. Drizzle over the olive oil and shake the tray to fully cover the potatoes.

Cook at 200°C for 30 minutes, regularly turning the 'fries' over.

4.

Bake in the oven at 200°C for 20 minutes, or until they start to brown.