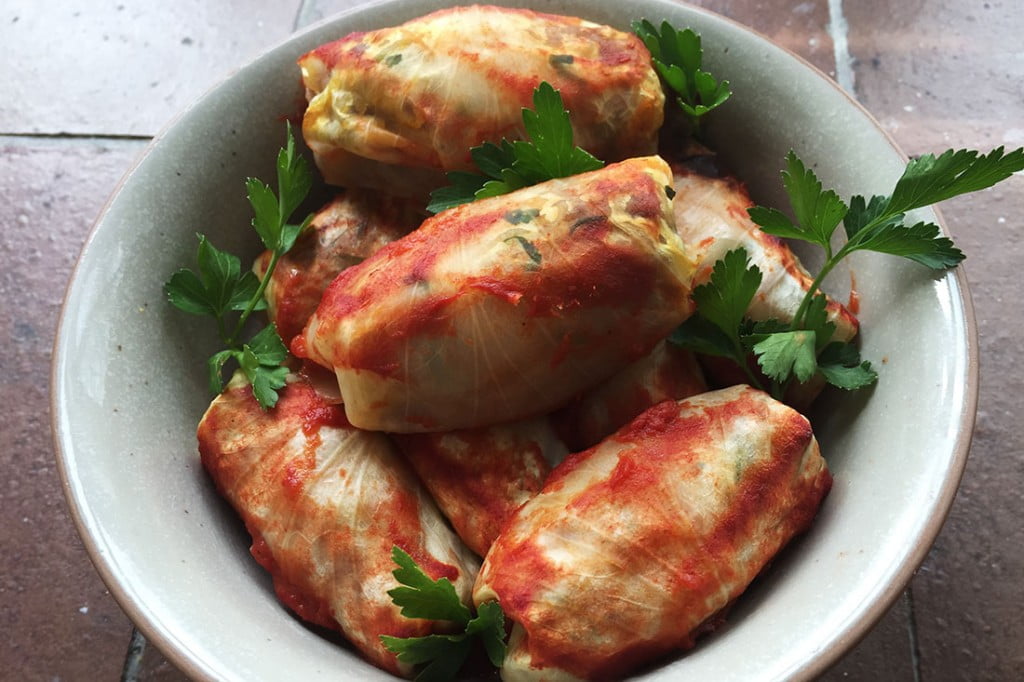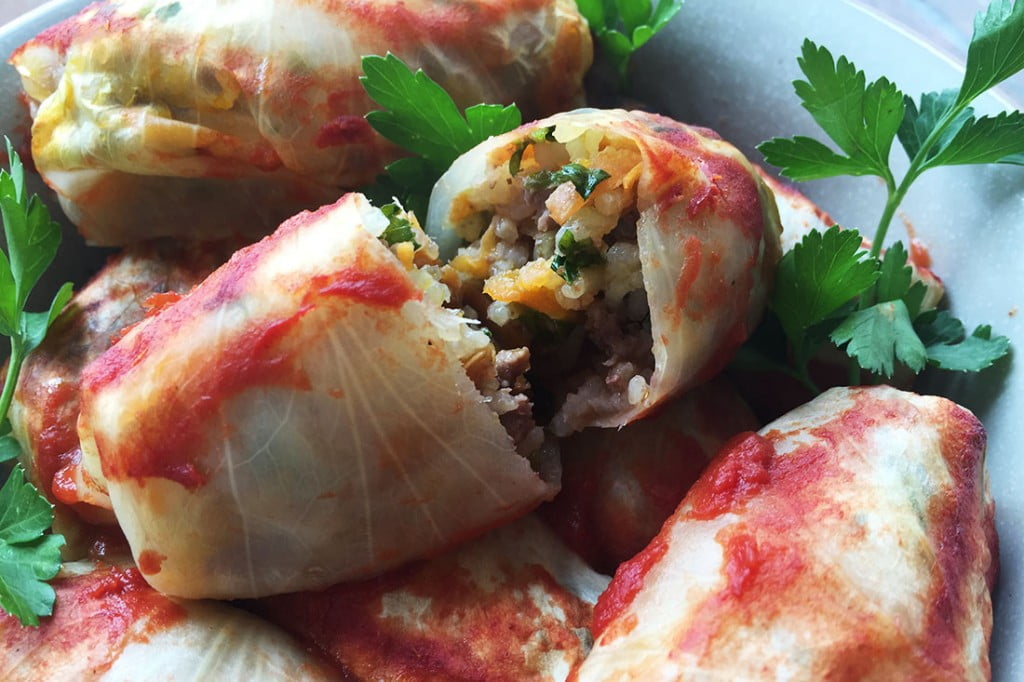 The preparation of cabbage rolls can be a huge family affair, with a long assembly line producing a mountain of these rice parcels for special occasions. This recipe 'cheats' a little, in that we use a shop-bought tomato passata and keep the filling pretty simple, but it's still hard work.
We'll admit to being a bit hesitant about the whole cabbage thing, even more so after they came out of the oven and smelled of… well… cabbage. However, we're sticking to our goal of cooking and tasting every dish for this website, so on we ate. And ate. And finished off the whole plate. Total taste explosion alert!
Time: 2 hrs +   /   Serves: 6   /   DIFFICULTY: Hard
Ingredients

1 cabbage head
100g white rice
1 onion, finely diced
2 carrots, grated
50g fresh parsley, chopped
100g minced beef
100g minced pork
200g tomato passata
Salt & pepper
Vegetable oil
Steps
1. CABBAGE PREP!

Wash the cabbage and cut out the core, then place into a big pan of boiling water - enough to cover the whole cabbage.

Boil for 5-6 minutes then remove carefully. Peel or slice off the outer few leaves (carefully score with a sharp knife). Return the cabbage to the boiling water and repeat until all of the leaves are cooked and separated.

Use a sharp knife to cut away the hard stalk-y bits - we did a simple 'V' shape to remove.

2. FILLING PREP

Boil the rice in salted water for 10 mins.

3.

In another pan, fry the onions in a little oil until soft. Add in the grated carrot and chopped parsley, and cook for a further few minutes.

4.

Drain the rice and add to the other mixture with some salt and pepper. Turn off the heat, put on a lid, and leave for 15-20 mins.

5.

Transfer the mixture to a big bowl and allow to cool for 10 mins, then stir in the raw minced beef & pork. Your filling is now ready!

6. STUFFING & ROLLING!

Add a spoonful of the filling into the middle of a cabbage leaf before rolling up into little parcels. Make sure to tuck in the ends so your filling doesn't escape.

Put a small layer of tomato passata into the bottom of a dish, then place your parcels on top. Squeeze them in as tightly as you can to ensure they don't unravel. Ladle some more passata over the top before placing in the oven at 160°C for 50 mins.