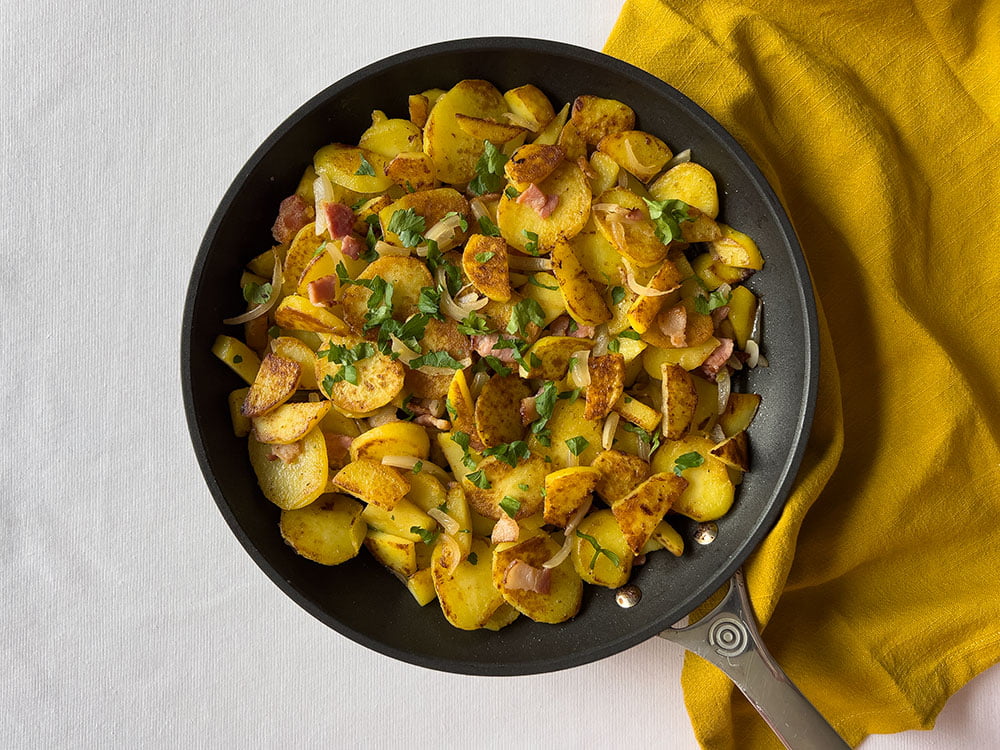 1. THE DAY BEFORE
Bring water to boil with some salt. Scrub the potatoes and then cook until tender – we used medium potatoes that took 20 minutes.
Drain and cool. Peel, cover, and store in the fridge overnight.
2. THE DAY OF
Remove potatoes from the fridge and cut into thick slices. We did some discs, some semi-circles, and some batons. Go wild. Do what you like.
3.
Chop the bacon into small strips and fry over medium heat until cooked, then remove and place onto kitchen paper.
4.
Add the onion to the bacon fat and continue cooking over the medium heat for a 3-5 minutes. Remove and keep with the bacon.
5.
Add 1 tbsp vegetable oil to the same pan and add half of the potatoes, and continue frying over that medium heat. Flip when browned on one side, then also remove once both sides are golden. Repeat with the remaining potatoes.
6.
Tip the bacon, onion and first batch of potatoes back into the frying pan. Add the paprika, salt and pepper, and quickly stir together. Keep on the heat for 2 further minutes.
7.
Serve with chopped parsley!