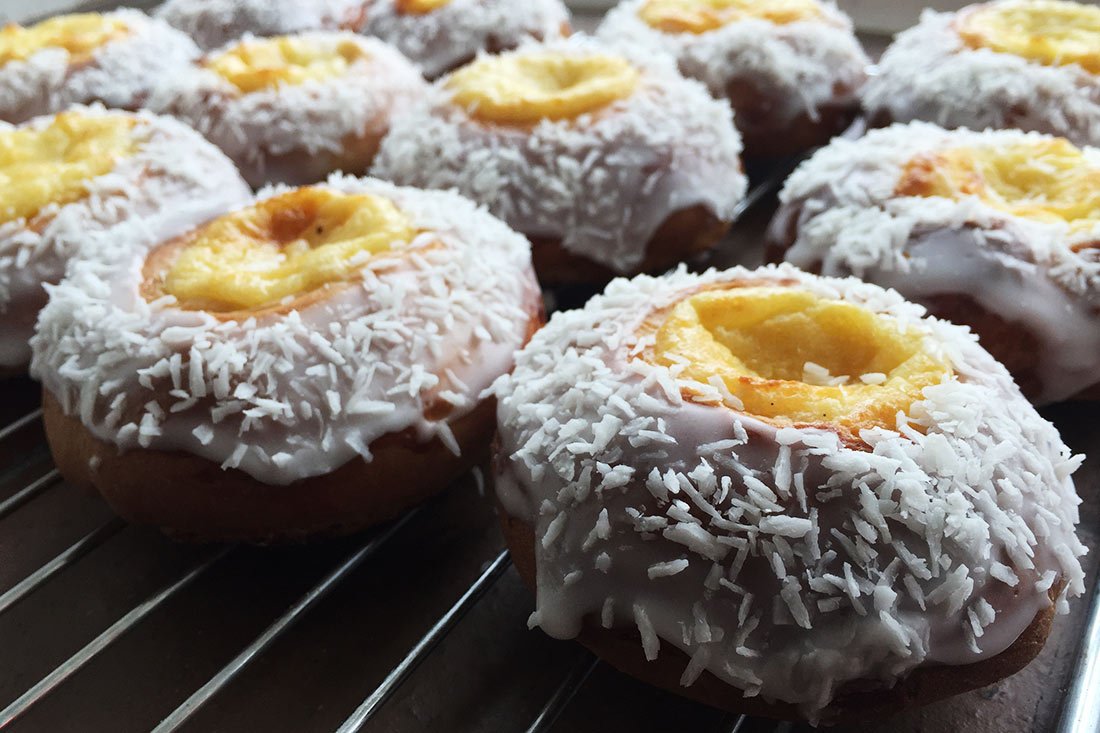 These cardamom flavoured buns stuffed with a vanilla custard cream are incredibly yummy. We're not really coconut fans either but the little flakes around the edge are 100% necessary and 100% tasty. Apparently skoleboller/skolebrød are traditional treats for children, found in lunchboxes across Norway, but we say it's completely OK to scoff these as an adult too.
These instructions are for complete non-bakers using a dry yeast and pure human kneading strength. The more technical amongst you, with fancy dough mixers and fast-acting yeast etc etc will need to amend accordingly.
Time: 3 hr 10 mins   /   Serves: 8   /   DIFFICULTY: Hard
Ingredients
Dough

40g butter
85g caster sugar
400g plain flour
1 teaspoon ground cardamom
135ml milk
15g dried active yeast
150ml water
1 egg, beaten
Vanilla cream

100ml milk
150ml double cream
60g caster sugar
1 teaspoon vanilla extract
2 egg yolks
Cornflour
Topping

6 tablespoons icing sugar
Desiccated coconut
Steps
1. DOUGH

Activate the yeast following the instructions on the packet. We had to dissolve 1 teaspoon of sugar in 150ml water (50ml boiling, 100ml cold), then whisk in 15g of yeast. Leave in a warm place for 15 minutes until a nice froth has formed on top, then whisk again.

2.

Melt the butter in a pan with the milk and sugar, and warm through.

3.

Mix 300g of flour and the cardamom in a big bowl. Make a well in the middle, then pour in the yeast and butter mixtures. Use your hands to slowly combine. Keep adding little bits of flour until the dough isn't sticking to the edges of the bowl.

Transfer to a floured counter/worktop and start kneading. You'll want to do this for about 15 minutes.

4.

Place the dough in a lightly greased bowl and cover with cling film. Leave in a warm place to rise for about 60-90mins.

5.

Once the dough has doubled in size, you'll need to transfer to a floured surface and lightly knead again. Cut it up into 12 pieces and roll into balls. Place these on baking paper on a baking tray, cover with cling film and leave to prove for 30 minutes. They should double in size again. While this is happening, move onto the next step...

6. CREAM

Whisk the egg yolks with the sugar and vanilla extract until pale. Add a teaspoon of cornflour, and whisk again.

7.

Warm the milk and cream in a pan over a low heat. Slowly add the egg yolk mixture and whisk continuously until the sauce has thickened. You can add more cornflour to aid this process.

8. BAKE!

Get your dough balls back out and press down in the middle of each, then fill with your cream mixture. Brush with beaten egg.

Bake at 180°C for 20 minutes. Cool on a wire rack.

9. TOPPING

Mix the icing sugar with a bit of water until you have a good consistency. Brush the icing around tops of the buns, then dip into the coconut.