Griddled courgettes with ajika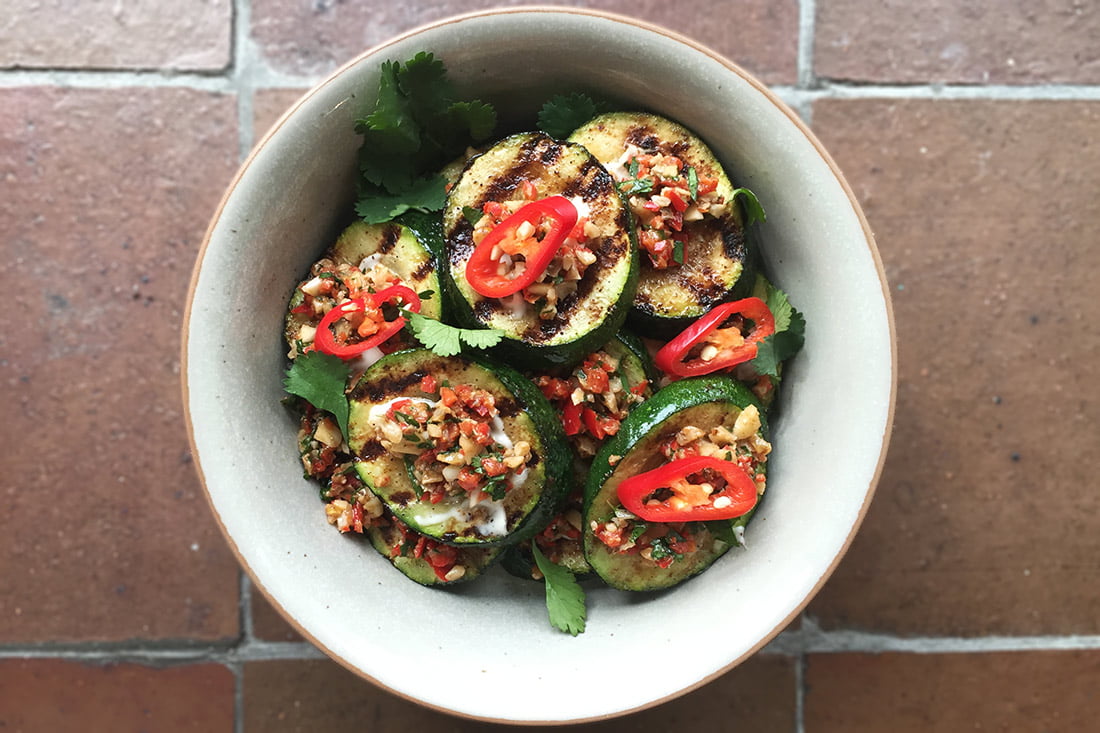 Ajika is a very hot and spicy dip used to flavour lots of different foods in Georgia. Despite the combination of big flavours, with red chillies, garlic and a mix of herbs, it all blends together into a super burst of H E A V E N. This isn't an exaggeration – at first it might blow your head off, but you'll be shovelling more and more into your mouth throughout the evening.
We've served our ajika on some simple griddled courgettes with a bit of mayonnaise and cayenne pepper.
Time: 15 mins   /   Serves: 6   /   DIFFICULTY: Easy
Ingredients
For the ajika

4 red chillies
4 garlic cloves, crushed
50g walnuts
50g fresh coriander, finely chopped
50g dried coriander
A handful of fresh thyme
A glug of olive oil
A glug of white wine vinegar
The rest

4 courgettes, sliced
Cayenne pepper
Mayonnaise
Red chillies to garnish
Steps
1. AJIKA

Remove the seeds from the chillies, then finely dice. Mix with all other ingredients to form a very hot, spicy paste.

2. COURGETTES

Slice the courgettes into 1cm wide pieces. Sprinkle cayenne pepper over both sides, then griddle with a little oil.

Once cooked, place a tiny bit of mayonnaise on top of each piece and then add a spoonful of ajika - you might want to vary the amounts for your guests' preferences! Top with more red chillies to garnish, because why not.