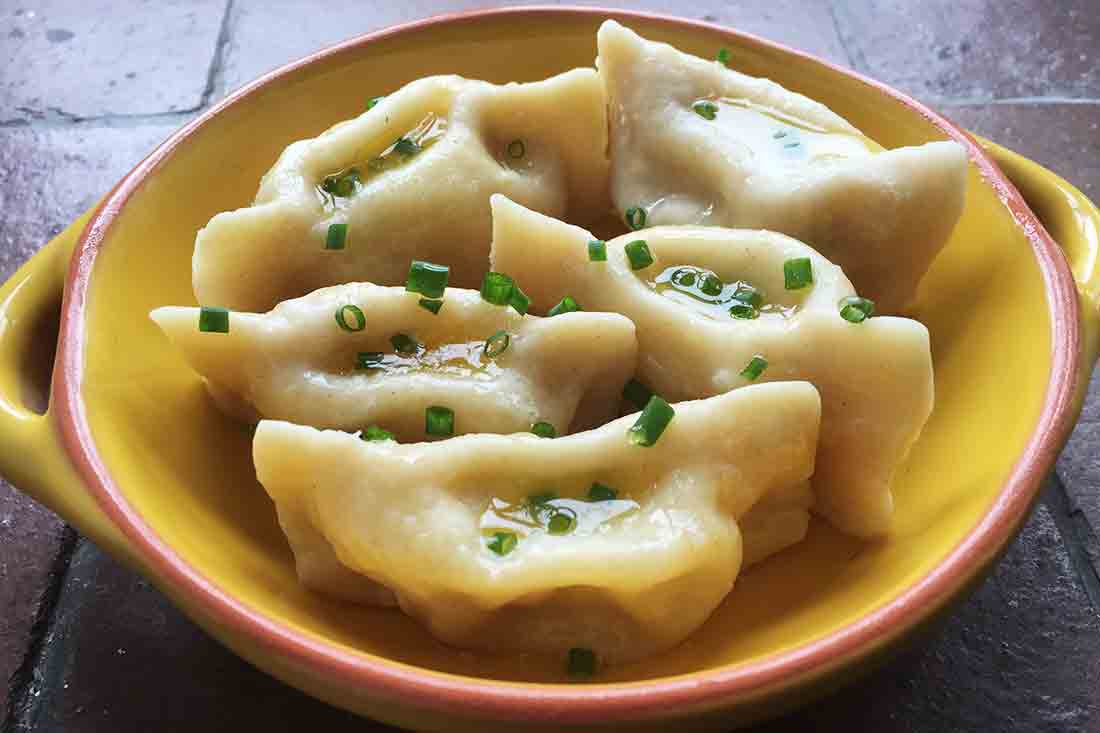 There are two things we definitely love at Mission Eurovision: potatoes and bacon. Luckily for us, these tasty dumplings are filled with those two wonderful ingredients. Not only that, they're then topped off with a drizzle of melted butter!
These take a while to prep but are a great side dish, so well worth the time.
Time: 1 hr 10 mins   /   Serves: 4   /   DIFFICULTY: Medium
Ingredients

400g potatoes
150g bacon
A handful of chopped chives
Salt & pepper
2 eggs
250g plain flour
1 teaspoon olive oil
A splash of water
To serve

Butter
Chopped chives
Steps
1. DOUGH TIME

Mix the flour, eggs and oil with a little salt. Add in a dash of water - but not too much! Once it's come together, knead the dough for 5-10 mins, then roll into a ball to rest for 30 mins.

2. MAKE THE FILLING

Peel the potatoes then boil for 20 mins/until soft. While doing this, cut up the bacon into small pieces and fry until crispy.

3.

Mash the potatoes, then mix in the bacon and chives. Season with salt and pepper.

4. ASSEMBLE

Split the dough into two halves and then roll into rectangles. On one piece of dough, place small balls of the stuffing into rows, leaving 5cm gaps between them. Place the other dough rectangle on top, then slice into small squares with the stuffing in the middle.

Seal the edges of each dumpling with your fingers and push gently on top of the stuffing to create a small dent.

5. BOIL & SERVE!

Boil the dumplings in salted water for 12 mins.

Serve with melted butter and chopped chives on top.