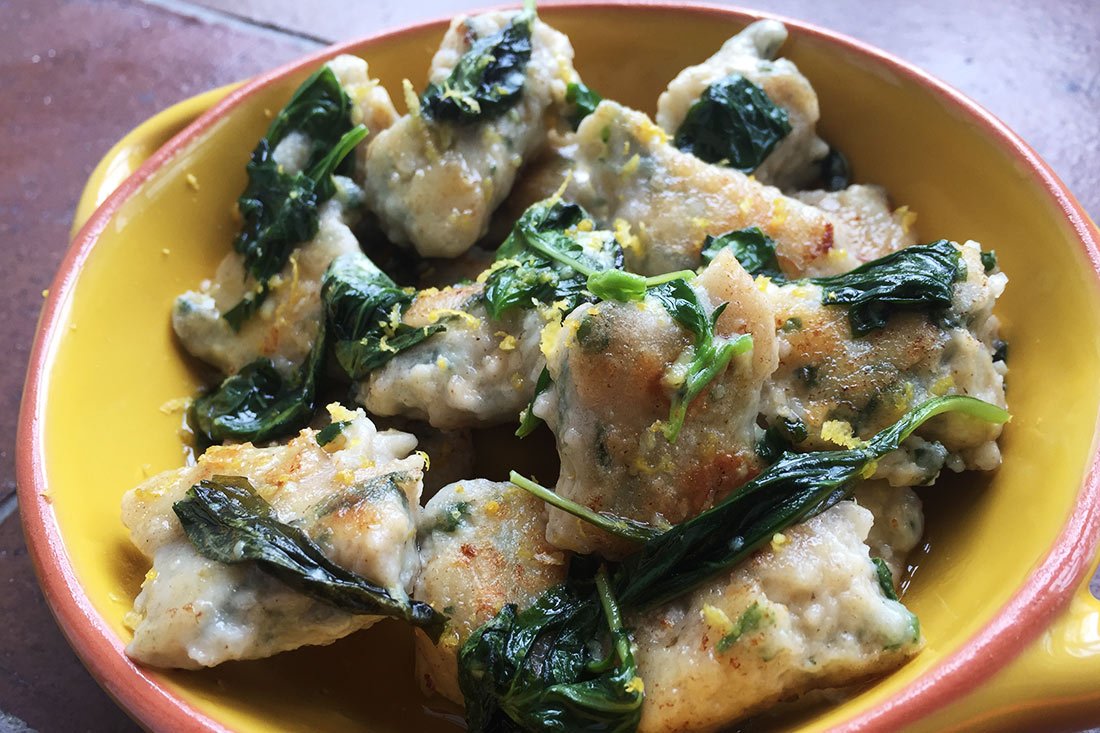 Light pockets of Italian cheese covered in a basil butter. Deceptively more-ish, it's best not to think about the calories here. The idea is that these gnudi balls are "nude ravioli", like the filling without the heavier outer shell.
You can prepare these the day before your party – they're best left overnight to really allow the basil to flavour the ricotta mixture. On the day you'll just need to heat them up and prepare your buttery basil sauce. Nice & easy.
Time: 20 mins   /   Serves: 4   /   DIFFICULTY: Medium
Ingredients

250g ricotta cheese
130g parmesan cheese
2 eggs
75g plain flour
Semolina flour
60g basil
15g butter
Lemon zest
Steps
1.

Wilt 40g basil leaves in a tiny bit of water over a high heat. Transfer to a muslin cloth (or similar) and squeeze out all excess moisture.

2.

Blend the wilted basil with 75g ricotta cheese. Add this to a bigger bowl, and mix in the remaining ricotta, the parmesan and the eggs. Whisk until all combined.

Fold in the flour until the dough is no longer sticky.

3.

Sprinkle semolina flour over the bottom of a dish. Rip little bits of dough out of your mixture and form into little rectangular shapes, about 1cm thick. Sprinkle more semolina flour over the top, then leave in the fridge for up to 24 hours.

4. COOK!

Bring a pan of water to the boil and add a pinch of salt. Gently lower the gnudi into the water - we had to do ours in 3 different batches - and wait until they rise to the top before removing. This should take about 1-2 mins.

5.

Transfer the cooked gnudi to a frying pan with a bit of butter and toss until both sides are lightly golden. Remove the gnudi and leave to rest. Add the rest of the butter and basil leaves to the pan and cook until bubbling.

Drizzle the basil butter over the gnudi and finish with some lemon zest.